The Filing Activity by Payment Account screen allows the user to run a Filing Activity Report for a case any list the filings by the payment account used.
Note: the report does not allow a user to enter an account number and list all filings on the card.
View the Filing Activity by Payment Account Screen
Click Reports from the Main Menu at the top.


Then select Filing Activity by Payment Account from the Left Menu.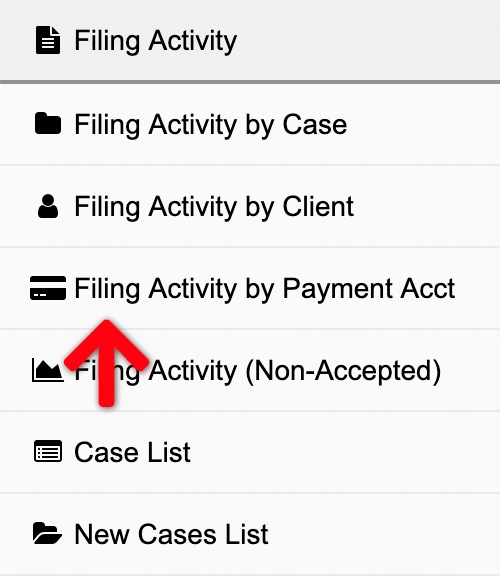 Filing Activity by Payment Account Overview
This report allows a user to customize their results by: Case Number, Output Type, and Date.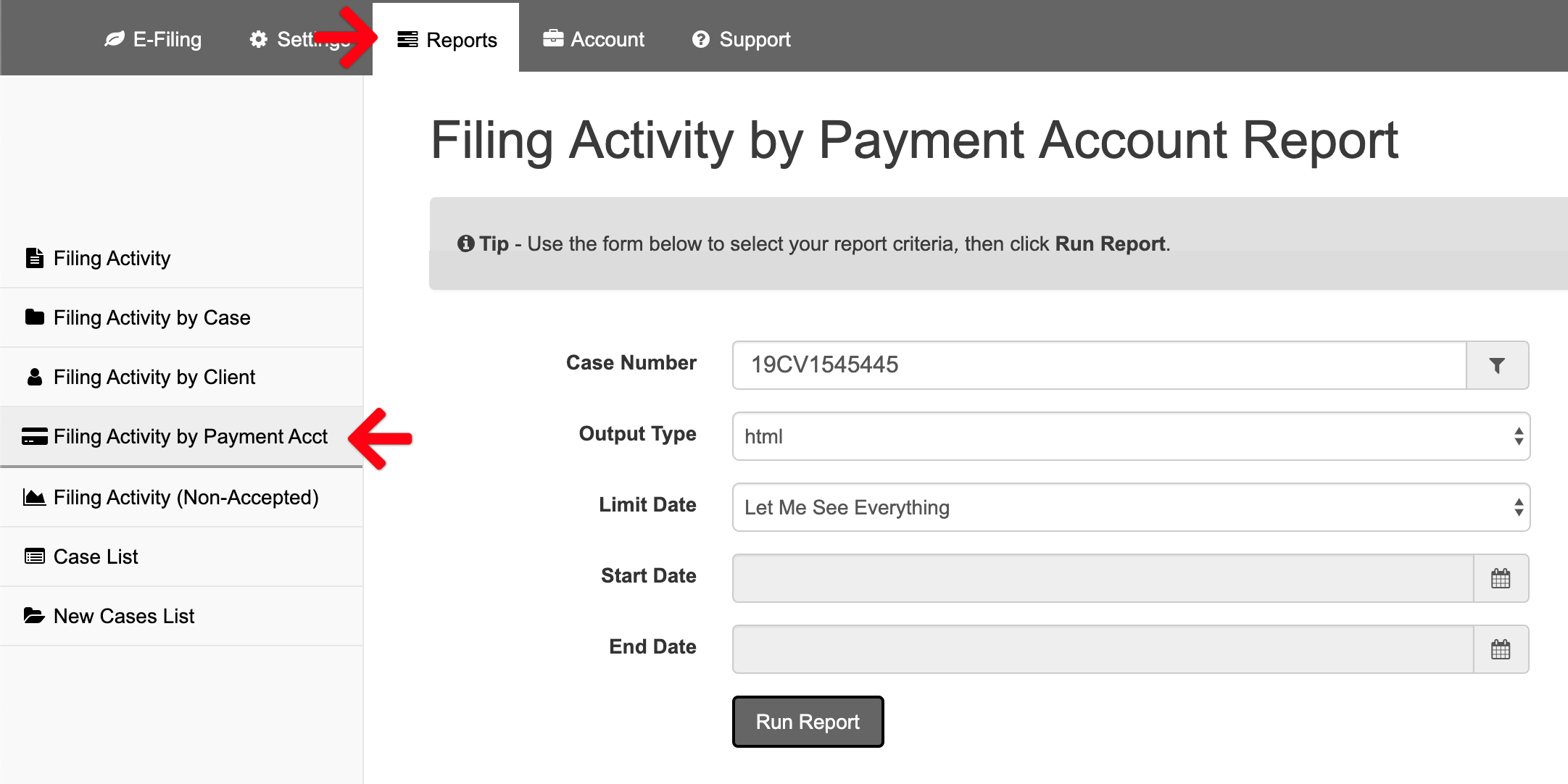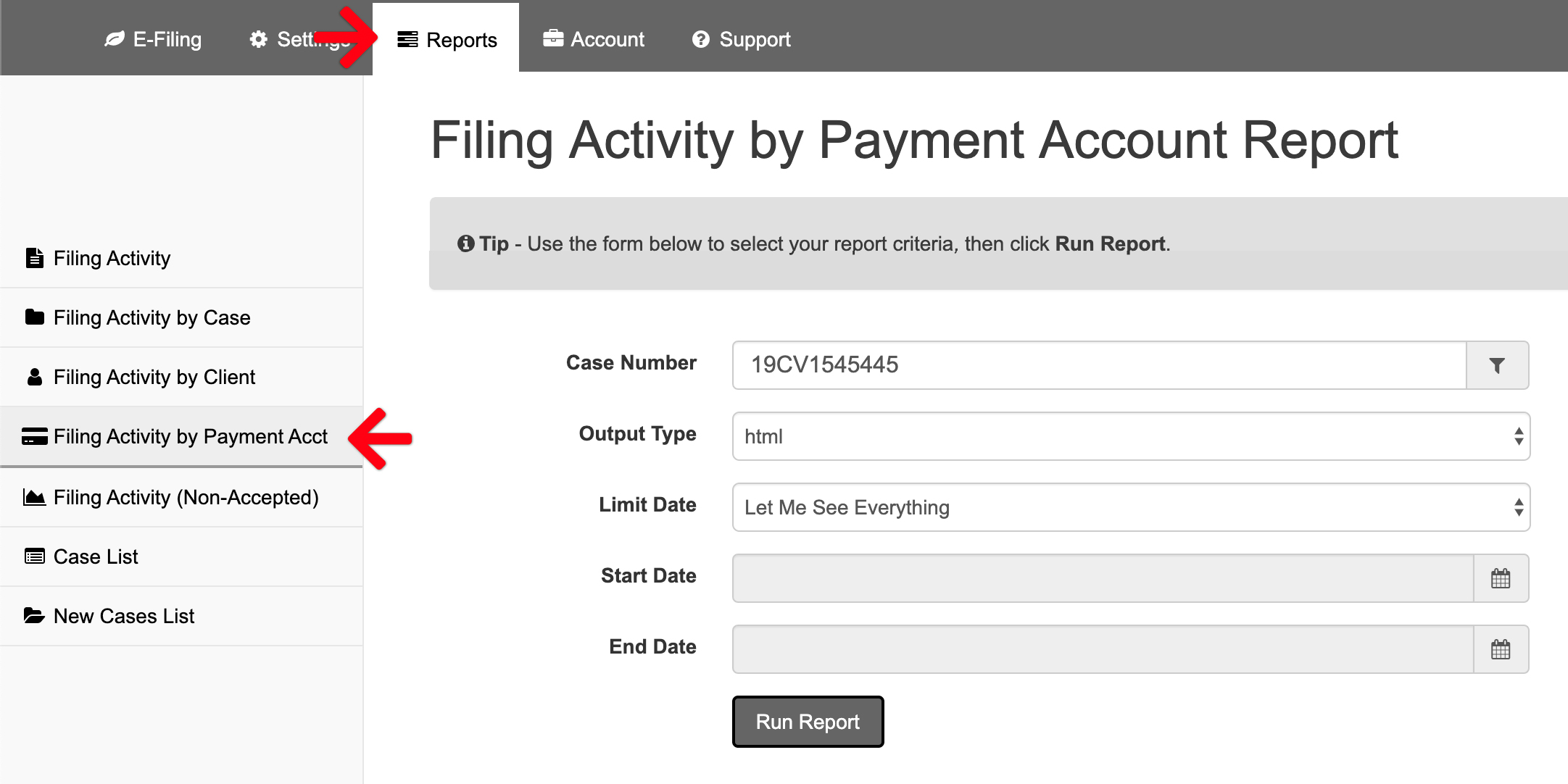 Case Number
Enter a case number, search the user's firm cases, or search all cases for the report.
Output Type
The user has a choice of three types of report output: HTML, CSV, or PDF.
Limit Dates
The user may limit the dates for the report by Past Month, Everything on the Case, or Specific Dates—then the user will be able to select a Start Date and End Date for their report.
The Filing Activity Report by Payment Account


Once the user runs the report, they will find the results for the case filtered by the Payment Accounts used for that Case. Additionally, each payment account will list the Filing Id, Envelope Number, Court, Attorney, Accepted Date, Submitted Date, Case Number, Lead Document Name, Cardtype – Last Four, Client Matter Number, Charge 1, and Charge 2.
A: Payment Account
The report lists all payment accounts in order that filers at the firm used for the case.
B: Filing ID
The user may click any highlighted filing id in the first column to bring up the actual filing in the report.
C: Important Note for Charges
For filings submitted and accepted by Odyssey eFileCA courts, the court's payment processor may bill your card separately for the Court Filing Fees (Charge 1) and the Court Service + Court Convenience + Provider Service Fees (Charge 2) resulting in two transactions whose sum equals the Total Payment Amount.