These instructions are for users needing to Initiate a New Complex Civil Case in the Los Angeles Superior Court. This means you have a new case, and one does not exist yet in any court. If a case already exists in the court system, you will want to File on an Existing Case.
Read the Los Angeles Superior Court's Complex Civil latest information and FAQs
Initiate a New Case
Click the Initiate a New Case link from the left menu of the Dashboard to begin: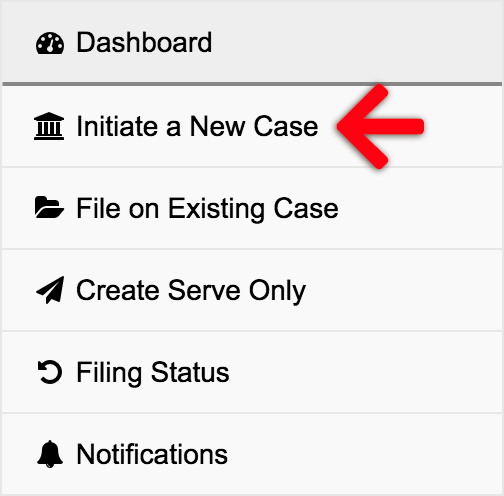 1. Select Court & Case Type
– Choose the court location and case type to file your new case.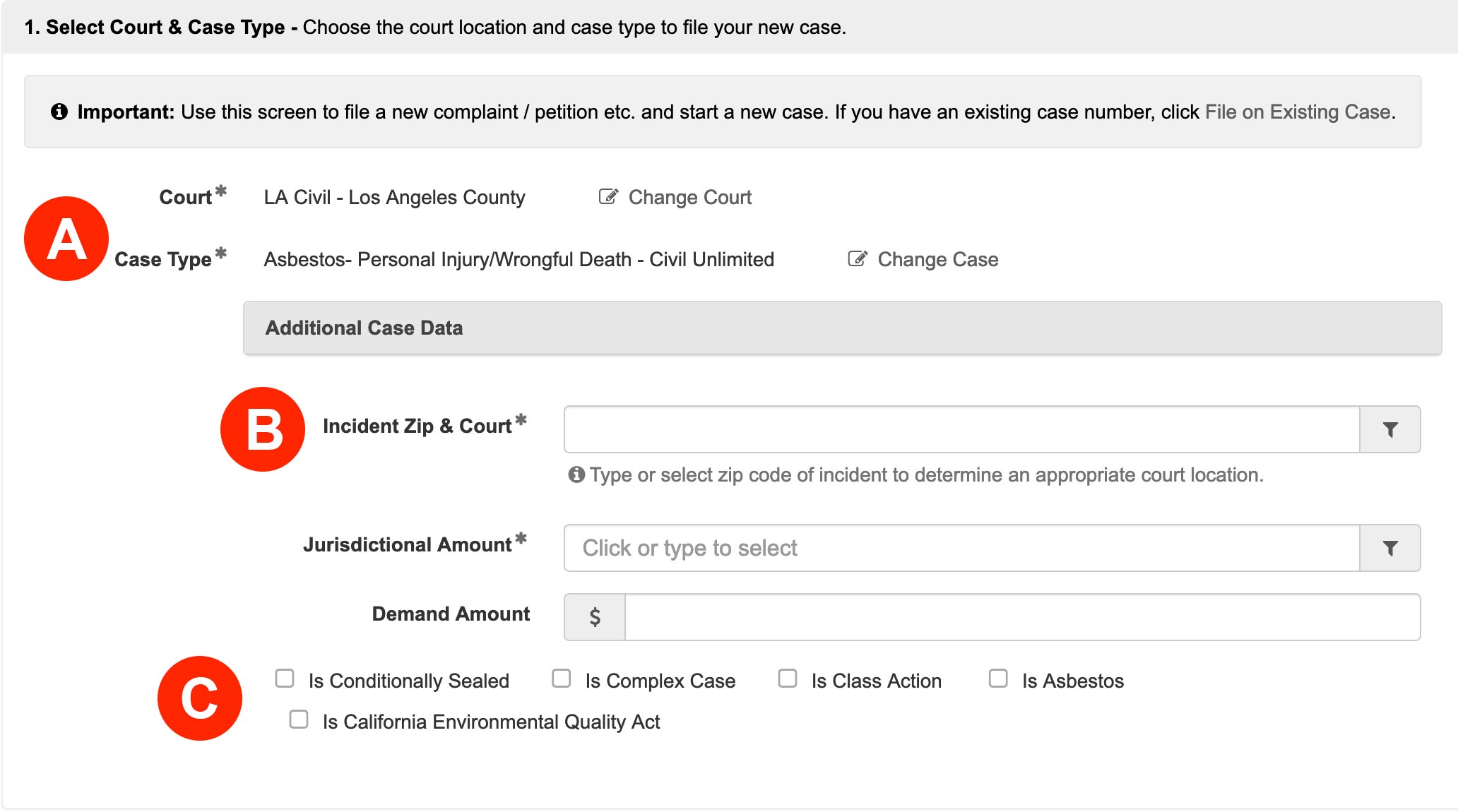 Court and Case Type – Choose the court location and case type.
Additional Case Data

Incident Zip and Court – Enter the required Incident Zip and Court (filers may refer to LASC's Filing Court Locator if they need to know the specific Courthouse to select for their Zip Code and Case type (http://www.lacourt.org/filinglocatornet/ui/filingsearch.aspx))
Jurisdictional Amount – Select the appropriate Jurisdictional Amount from the drop down for your Complex Civil case

Select the appropriate check boxes. Per GC 70616(a), there is an additional $1,000.00 fee (one fee for all plaintiffs) for cases designated as complex.
2. Add Documents –
Define, select, and upload the documents that make up your filing.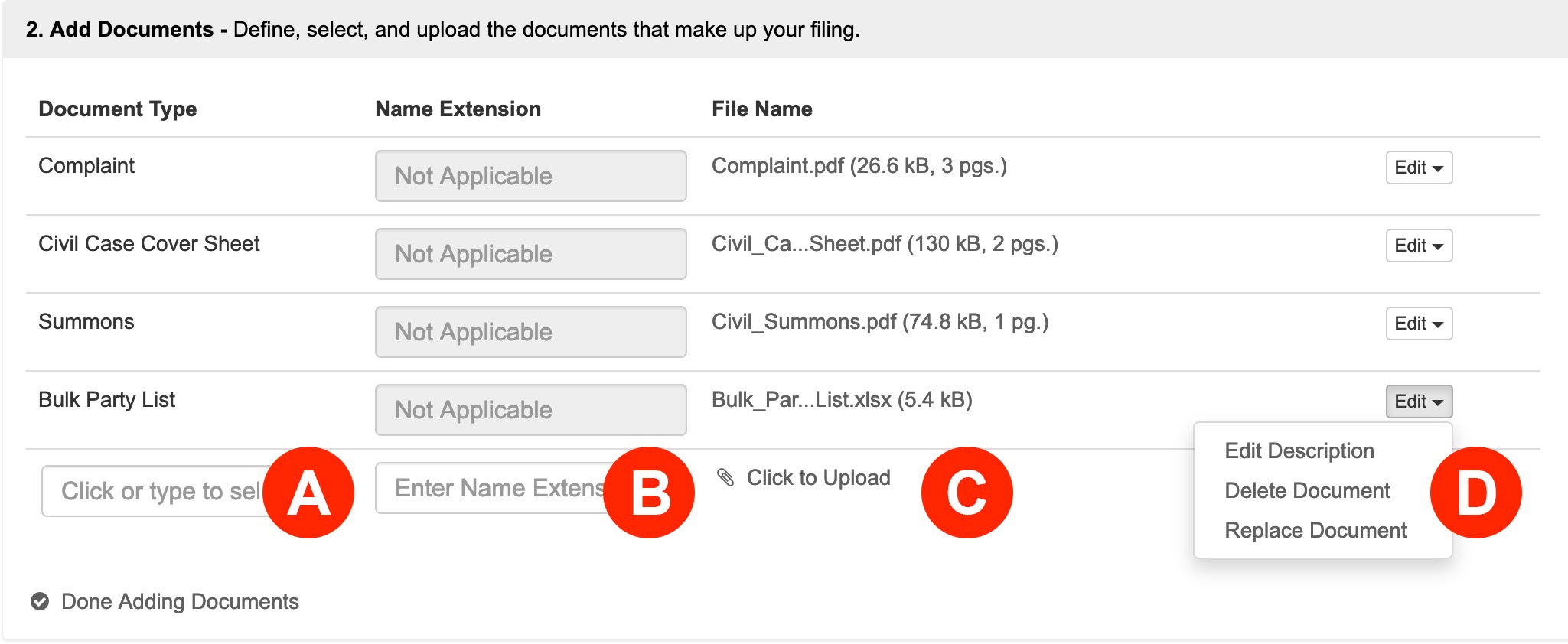 Document Type – The court requires the Complaint be the lead document, so select and upload that first. Only after that, will you see the document types of Summons and Civil Case Cover Sheet to select as subsequent document types. The court would like the Civil Case Cover Sheet and Civil Case Cover Sheet Addendum to be submitted together in one PDF.


Bulk Party List

The court requires filers upload a Bulk Party List in an Excel spreadsheet (.xlsx) for case initiations with 25 parties or more for these initial filings:

Complaint
Cross-Complaint
Any Amended Complaint
Any Amended Cross-Complaint

Name Extension – If you choose a document type with (name extension) on the end of it, you will be able to type the true document title in the document description field.

Note: To improve your chances of having the filing accepted, you will want this description to 100% match the document's title.

Click to Upload – Click the link to add your document. Aside from the Bulk Party List, our system will automatically convert most native file formats (i.e. Word, WordPerfect, JPG, PNG, GIF, TIF) into the Court's preferred Adobe PDF format, upon upload.
Edit – Click the Edit button to edit a description, delete a document, or replace a document.
3. New Case Parties –
Enter the required parties.
Each case type you choose has required parties that must be defined. You must list all the parties listed in your complaint, and they need to match the document's spelling AND case 100% to increase your chances of the filing clerk accepting your submission.
Note – If your party name is something more than a First, Middle, and Last name, switch the TYPE field from Individual to Business.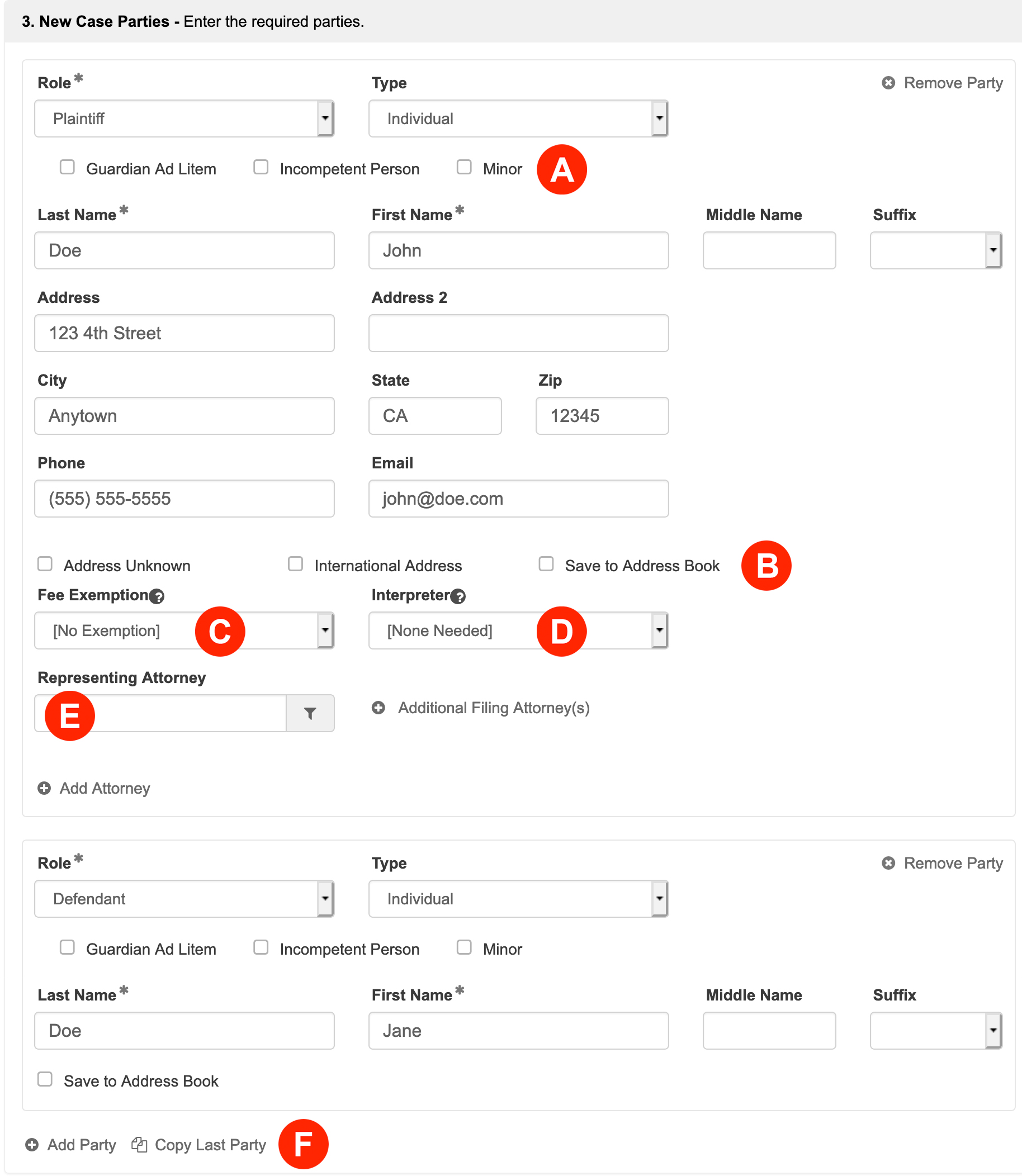 Filers may select a Guardian Ad Litem, Incompetent Person, and/or Minor party sub role. (Check as many as applicable)
Address Unknown, International Address, and Save to Address Book check boxes:

Address Unknown: Check this box if a party's address is unknown. However, it should be noted that the filing clerk may possibly reject the filing and request the filer enter one.
International Address: Check this box for a drop down with a list of countries to select. Additionally, checking this box makes the State and Zip Code fields no longer required; only the Counrty field.
Save to Address Book: Check this box to save the new party information to the account's address book. Learn more…

Fee Exemption – if your party wants to submit a waiver of fees for the case, you will need to make sure to select Fee Waiver or Government Entity in the Fee Exemption drop down. Then you may return to section 2 above and add your Request to Waive Fees form.
Interpreter – Select the language for any Interpreter needed.
Representing Attorney(s) – Select any Representing Attorney from the menu, or click the Add Another Attorney link to add them.
Add Party / Copy Last Party Click either link at the bottom of this section to add additional parties.
4. Filing Party –
Choose the party or parties you are filing on behalf of. If using a keyboard, select parties with the enter key instead of the spacebar.

5. Service Contacts –
Add or select service contacts to perform electronic service. Service contacts provided by the court are annotated with and may not be edited.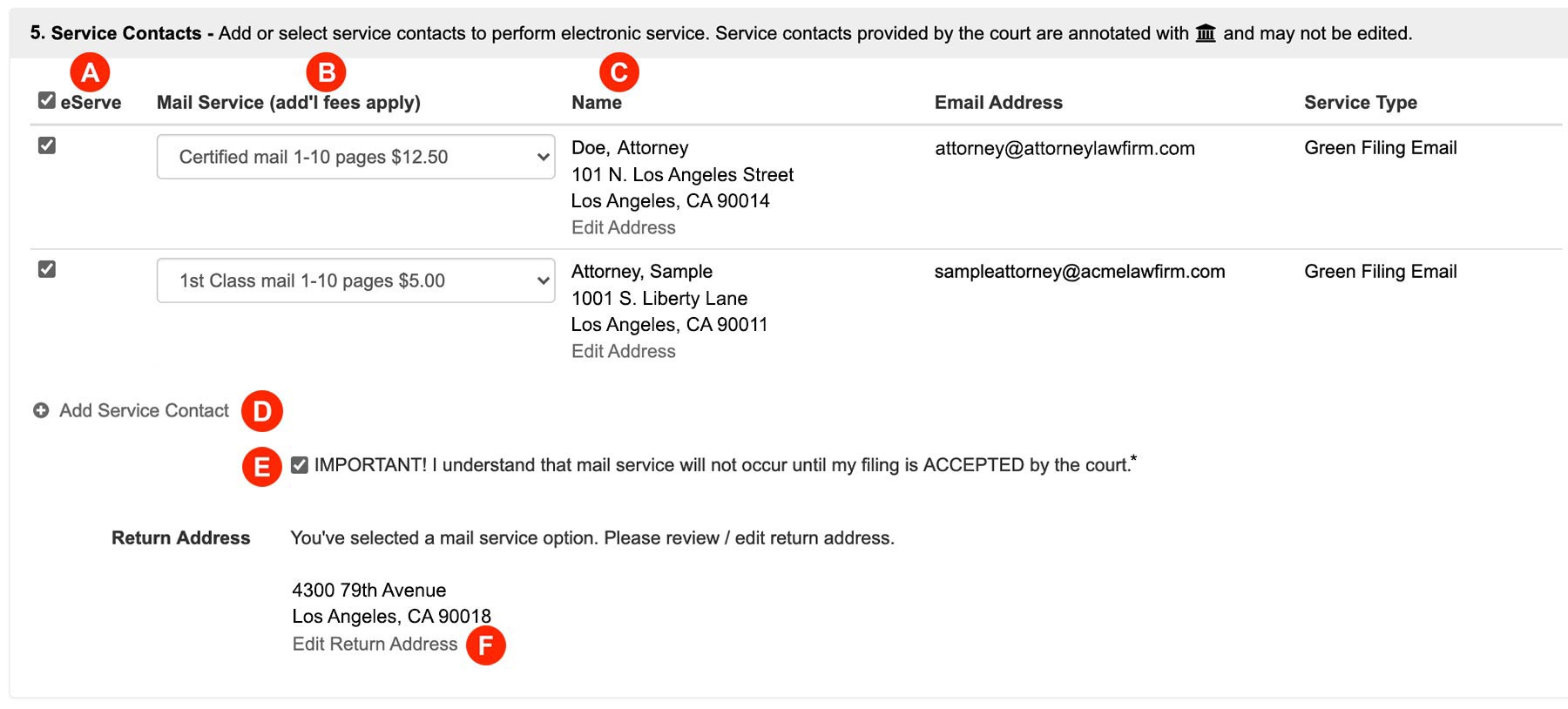 eServe – Check any box in this column to electronically serve a party or attorney via email.

IF YOU DO NOT WANT THE OPPOSING PARTY (OR ANY PARTY) TO HAVE ACCESS TO A CONFIDENTIAL DOCUMENT NEVER E-SERVE THEM. E-SERVING A PARTY MEANS THAT YOU, THE FILER, CONSENTS TO THEM HAVING ACCESS TO THE DOCUMENT.
Mail Service – Select Certified or First Class Mail to serve a party or attorney via mail once the court accepts the filing.
Name – a filer may add or edit an address for Mail Service. However, only the contact's name shows until a user selects a Mail Service type in the previous column.
Add Service Contact – click this link to add new contacts to a filing.
Acknowledgment Checkbox – For those users who have requested mail service, check this box to acknowledge you understand mail service doesn't go out until the court accepts the filing.
Return Address – Verify the return address is accurate and correct in case any Mail Service is returned to you.
Learn More about Service Contacts and our new Mail Service via Certified and First Class Mail
6. Filing Fees –
Select a payment method to pay estimated fees.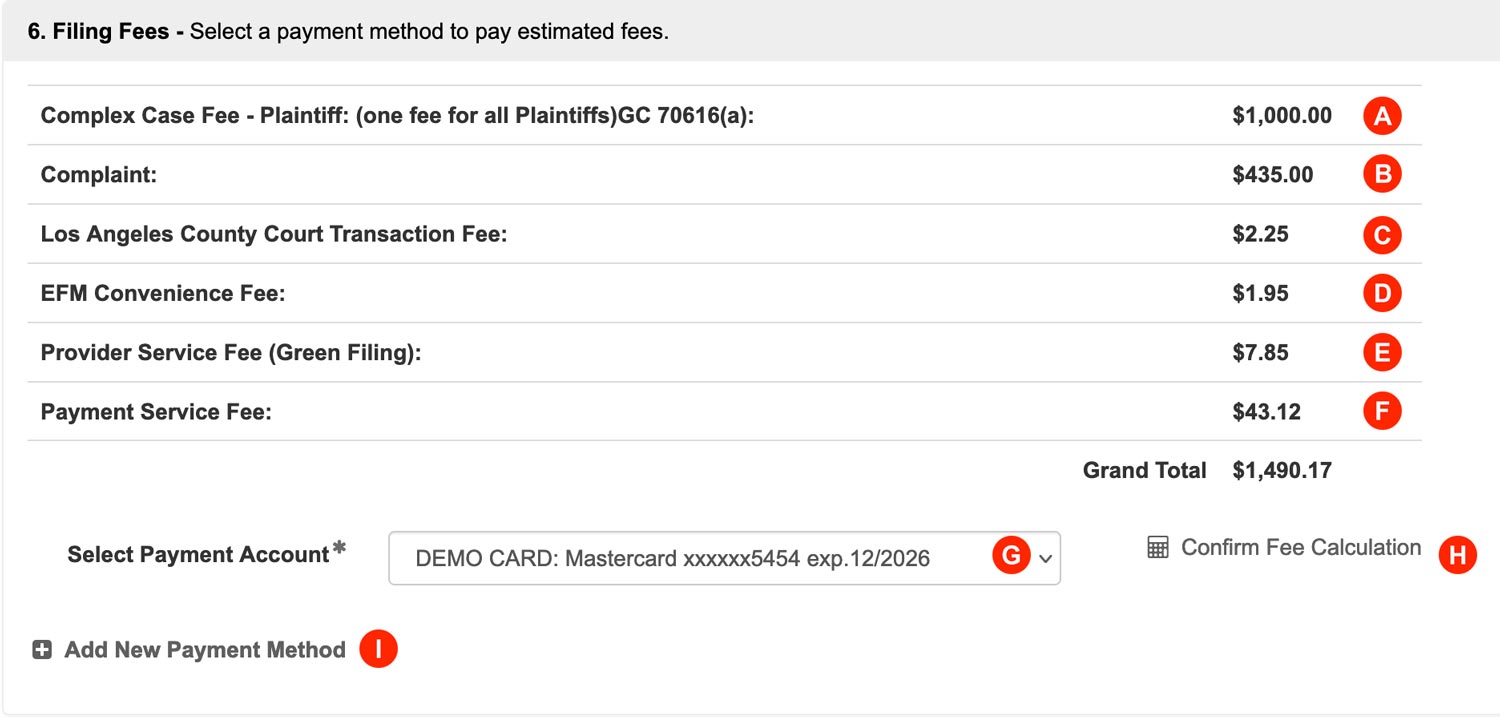 Fees Breakdown
A. Complex Case Fee – Plaintiff – Per GC 70616(a), there is an additional $1,000.00 fee (one fee for all plaintiffs) for cases designated as complex.
B. Additional Court Document Fees – If any of your Document Types have fees associated with them, this row(s) will list the document with its associated fees. If this amount looks incorrect, filers will want to choose a different document type above.
C. Los Angeles County Court Transaction Fee – The Los Angeles Superior Court currently charges filers $2.25 for each accepted filing.
D. EFM Convenience Fee – The Los Angeles Superior Court's E-Filing Manager software provider, currently charges filers $1.95 for each accepted filing. This is the software the courts use to receive, review, and process filings that each e-filing service provider is integrated with.
E. Provider Service Fee – This is the fee your chosen provider (EFSP) charges for each accepted filing. Please refer to your EFSP for more information regarding their fees.
F. Payment Service Fee – The Payment Processor currently charges 3% the total fees for using a credit card or $1 for using an ACH payment type for each accepted filing.
Confirm Fees
G. Select Payment Account – Choose your payment type. Filers who select an ACH payment type will also need to select a credit card on file as backup. If you do not see your payment type, click the Add New Payment Method link below (Letter I).
H. Confirm Fee Calculation – Click the Confirm Fee Calculation link to see the estimated fees. The filing fees auto-populate from the court based on the Document Type(s) selected and the Additional Information entered. If the fees seem incorrect, you may need to change one of these types above.
Unusually High Estimated Filing Fees – On filings where the estimated fees are unusually high, the e-filing system will prompt the filer to contact customer support for approval before you may submit the filing. Filers may reach out to us the following ways:
Phone: (801) 448-7268
Email: support@efilinghelp.com
Live Chat
I. Add New Payment Method – If you do not see your payment type in Letter G or wish to add a new one, click this link to add it.
Fee Waivers on a Case – If (1) your party has an existing fee waiver on the case, (2) you are requesting a waiver of fees for your case, or (3) you are a government entity where the fees do not apply, CONFIRM THE FEES DISPLAY AS $0.00 BEFORE SUBMITTING THE FILING OR THE SYSTEM WILL CHARGE YOU THE GRAND TOTAL.
7. Review & Submit –
Finalize your filing, review, and submit.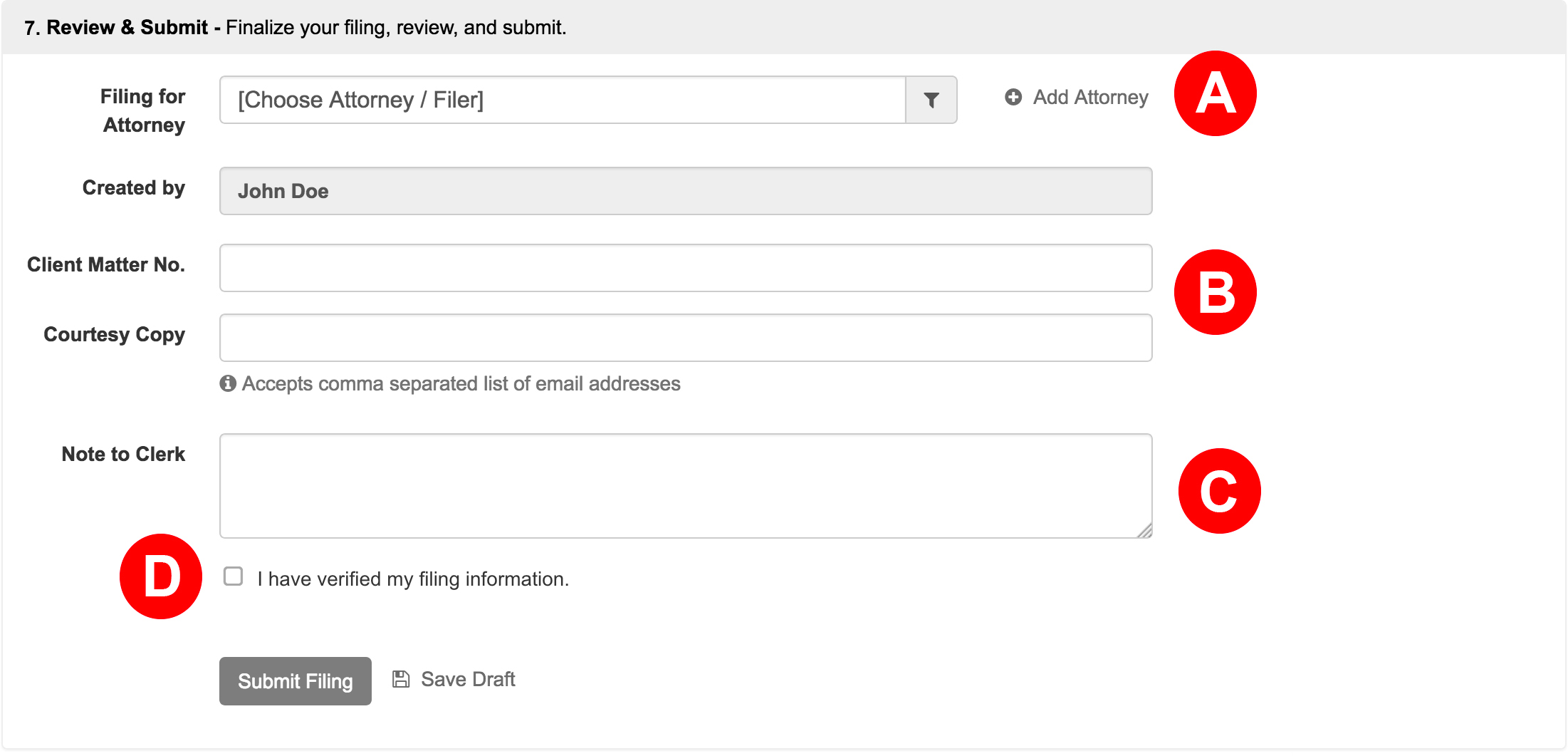 If you are Filing for an Attorney select them from the menu or click the Add Attorney link.
If your firm uses any sort of Client Matter No, enter it here. If you want an unofficial copy of the filing to go to anyone associated with the case, like a client, enter their email(s) here. Note: this is different from a service contact, and it, along with the client matter number, are for your internal purposes only.
If your court has the option to leave the clerk a memo, enter any sort of note here in the Note to Clerk box.
Review your entire filing for accuracy, Then check the box to acknowledge you have verified your filing information.
ONCE THE FILING IS SUBMITTED, NEITHER THE FILER NOR THE E-FILING VENDOR MAY CANCEL OR EDIT THE SUBMISSION.
Submit Your Filing
Click the Submit Filing button. Clicking this button, sends your filing directly to filing clerk's queue at the Court for review. Once all documents are successfully sent to them, the Court will return an envelope number with the date and time they received the full submission. This will be the date and time for the file stamp in your accepted filing. Any filing the Court receives weekdays after 11:59PM, on the weekend, or Court Holiday receives an accepted file stamp of the next Court business day.
On the Filing Status Screen, you will now see your filing is listed as pending. You may return to this screen at any time to see the current status for it and any other filing. Depending on the Court, it can take as little as a minute to review the submission to a few hours to a full business day. If it takes longer than that, the Court may have a backlog they are working through. If you are ever concerned about the status of a submission, the best thing to do is contact the Court directly and provide them with the Envelope Number on your filing.
7. Pre-authorization of Fees
It is important to note that when you submit your filing, the court does a pre-authorization on your card for the filing fees. If the court rejects the filing, then they will not settle that pre-authorization, and it will eventually fall off your card within 3 to 10 business days from the date of the clerk's rejection depending on your banking institution.
Learn more about the pre-authorization of fees